The Lives of Lucian Freud: Youth 1922-68, by William Feaver, Bloomsbury, 704 pp, £35, ISBN: 978-1408850947
In one of his few written statements on art, Lucian Freud declared that "a painter's tastes must grow out of what so obsesses him in life". Published in the London literary magazine Encounter in 1954, the mere two pages of "Some Thoughts on Painting" remained among Freud's most substantial reflections on his work until his death in 2011. Since he was notoriously averse to being interviewed, the question of what precisely obsessed the artist has had to be largely gleaned from his canvasses. Though committed to the representation of his world in painting, Freud's fierce privacy has restricted the view of his personal life to a form of abstraction.
The publication of the first volume of William Feaver's biography represents a landmark in our understanding of the artist and his world. Feaver's fascination for his subject was sparked from their first meeting in 1973, when he assured the presumably wary Freud that his interests lay not in his private life but only in the work itself. Yet as their relationship developed over the following decades and Feaver began the practice of recording their regular conversations together, he succeeded in compiling a remarkable body of biographical material on this most elusive of artists. "By then of course," Feaver writes, "it had become obvious that the work reflected the life and embodied the life."
The revelation of this first volume is that we suddenly find ourselves in the company of a loquacious Lucian Freud full of commentary and insight, so that the life beyond the canvass rapidly begins to materialise. Youth take us from the artist's earliest years in Weimar Germany to the later resurgence of his career in '60s London. Freud was born in Berlin on December 8th, 1922 to Jewish Austrian and German parents, Ernst Freud and Lucie Brasch. Ernst was the architect son of the psychoanalyst, while Lucie came from a family of wealthy grain merchants. Sigmund Freud, an ageing international celebrity by the 1920s, features as a warm occasional presence in Freud's childhood. As a boy, Freud was the indulged favourite of his mother's three sons, yet he nonetheless displayed from a young age the difficult unruly personality that would mark his adult life. "My mother said that my first word was 'alleine' which means 'alone,'" he recalls, 'Leave me alone.'"
The young Freud delighted in challenging the civilities of his upbringing. These early years however were threatened by a far greater rupturing of the social order as the rising Nazi party began to tighten its grip on Berlin. Freud saw Adolf Hitler only once. "He had huge people on either side of him and he was tiny." Antisemitism gradually ingrained itself into everyday life. When out walking with his mother along the thoroughfare of Unter den Linden, Freud remembers taking a piece of chalk and scrawling a swastika on a wall. Puzzled by Lucie's appalled reaction, he simply told her that "it was just something all his friends did".
Youth is full of such startling vignettes that bring the obscurities of Freud's early life into sudden focus. Individual pages bustle with reminiscences and anecdotes, casually offered by the artist in a way that can lend the narrative an improvisatory conversational rhythm. The Freuds persevered in Nazi Berlin until Ernst found he could no longer maintain his architectural firm with the increasing marginalisation of Jewish businesses in the capital. The family eventually fled as "émigrés" to London in 1933, the year the Nazis committed the works of Sigmund Freud to the fire in mass public book-burnings, charging them with the crime of "the soul-disintegrating exaggeration of the instinctual life".
It was in England that Lucian Freud would largely spend the rest of his adult life and where he first began to feel his way into painting. Youth features a photograph of the budding artist aged fourteen, standing over a small canvass propped on a wooden chair in the garden of the family holiday home in rural Walberswick, on the Suffolk coast. Stripped to the waist and tentatively holding two long sable brushes, Freud's lowered gaze darkens his face in furrowed concentration. Sitting next to him is his father, sternly appraising the work in progress and, as Freud irksomely recalls, periodically taking the brushes from his son to correct him on the finer points of oil painting.
Freud's youthful forays into painting formed part of a fitful early artistic development that began to take clearer shape in his late teens when he found bohemian London during the war years. "I felt curiously privileged and in a terrific position to experience things," he remembers. "I was excited about life." Feaver's bracing narrative follows Freud into London's West End and the vivid quarter of Soho, where a ramshackle network of pubs, restaurants, cafés and cellar clubs gave cohesion to literary and artistic life. What emerges clearly from the biography is the magnetism of Freud's personality among the vibrant company he found there. Lithe and spry, armed with bullet blue eyes and a shock of dark hair, Freud easefully drew about him the constellation of admirers that became crucial to his early success. Cyril Connolly and Peter Watson, editor and patron of the hugely influential Horizon magazine, along with the ambitious new director of the National Gallery, Kenneth Clark, provided the vital promotion and financial support that would launch his career.
Feaver, a longstanding writer on Freud's work, does an excellent job of charting the artist's progression from an innate but undisciplined feeling for line and colour to the commanding forensic eye that would realise the major portraits of his first period. Largely untrained in the formalities of figure painting, the young Freud retained a stubborn individualism. "I always had a horror of using materials that reminded me of art schools," he remarks, choosing instead to work with Ripolin, a crude enamel paint more suited to coating the windows and doors of a house than an artist's canvass. He similarly cultivated a position of remove from the fervent art movements of the war years in Britain. Feaver is rightfully wary of branding the emerging artist of the 1940s a surrealist, yet he does acknowledge the unmistakeable traces of the movement across Freud's early work. Freud himself intriguingly expresses his appreciation for the abstracted dreamscapes of Joan Miró and the polemic collages of Max Ernst. Pablo Picasso meanwhile was a presiding influence on his evolving treatment of the figure. "You can use your intent to make anything seem like anything: Picasso's a master at being able to make a face feel like a foot."
A natural provocateur, Freud delighted in shocking those around him with a series of stunts straight out of the surrealist handbook. A grisly cast of dead and mounted animals littered his squat at 14 Abercorn Place, a decaying Regency terrace house in central London. The wife of art director Kenneth Clark was understandably appalled to find two dead monkeys stored in the kitchen oven during one visit in the early forties. A dead monkey provides the subject for the 1944 ink drawing on paper reproduced in Youth. Freud's treatment of the animal however dispenses with the juvenile exhibitionism that first shaped his social persona. The drawing is not meant to shock or provoke disgust but is rather defined by a quiet intensity of observation. The dead monkey is realised with a strong, spare line that marks the individual hairs across its body and the stiffened contours of its curled fingers and parted mouth. The attention of the artist induces a stillness that would become central to Freud's developing aesthetic in the 1940s. Rather than parade the painting with the surrealist's bag of tricks, Freud more subtly revealed the inherent surrealism of the scrutinised figure. "I didn't think of detail, it was simply, through my concentration, a question of focus."
In the years after the Second World War, Freud capitalised on the easing travel restrictions to find new invigorating artistic communities and affinities in Dublin and Paris. His time in Ireland has recently been brought into clearer focus by the landmark IMMA Collection: Freud Project. The series of exhibitions, talks and publications co-ordinated by the Irish Museum of Modern Art since the project's launch in 2016 have seen Freud acquire a novel residential status in Dublin, stimulating new scholarly and public interest in the artist's relationship with the city. The current exhibition of Freud's work alongside Jack Butler Yeats has opened up a rich dialogue between two of the major figures of twentieth century British and Irish art. Freud admired the ageing Yeats, but he would ultimately spend his time among the city's younger set of writers and artists. He took rooms in the lively environs of Baggot Street and soon became friendly with the young Dublin painter Patrick Swift. Swift had set up his studio nearby in the ground-floor room of 5 Lower Hatch Street, an old terrace house occupied by an eclectic group of writers and artists during these years. The building was owned by fellow Dublin painter and writer John Ryan, who rented it to his friends for a minimal monthly rate, including poet Anthony Cronin and composer John Beckett, cousin of Samuel Beckett. Freud would paint with Swift each morning before migrating in the afternoons to the public houses of the Grafton Street area, where he relished the ribald company of Brendan Behan and Patrick Kavanagh.
Given the renewed recent interest in Freud and Ireland, some of the most exciting passages of Youth are those that detail the artist's first experiences in postwar Dublin and the gritty allure of its atmosphere and people. Freud was an avid reader and it is thrilling to find the Dublin of James Joyce firing his imagination as he landed in Dún Laoghaire harbour in 1948:
I started alone; got the boat from Liverpool to Dún Laoghaire. I remember walking through Dublin and it being so exciting, like Joyce. Having read Ulysses it added to my enjoyment; I was amazed by the Irish and how all the cream in their buns turned sour by four in the afternoon; the butchers were amazing in Dublin too: because they were Catholics you saw blood and guts.
Such recollections sparkle with the immediacy of experience, throwing sudden vivid light on Freud's time in the city that captured his imagination throughout the 1940s and '50s. The narrative of Youth is shaped and directed by these myriad instances of personal reminiscence, to which Feaver typically maintains a deferential presence, dutifully following his subject's anecdotal prompts and leads. The primacy of Freud's voice gives Youth its unique strength and quality. Yet there are also dangers in this reliance on memory. Feaver's oddly downbeat description of a seventy-seven year old Jack Yeats "down on his luck" in the late 1940s seems to have been erroneously prompted by Freud's own evocative but misleading recollection of the painter in postwar Dublin. "I didn't talk to him," Freud begins. "He walked in St Stephen's Green all day. He had no market, and Victor Waddington ‑ the Dublin dealer ‑ sort of saved his life." Freud then speculates on Yeats's financial troubles, hoping that '"he must have had a little money ‑ not been on the floor ‑ because poverty in Ireland was so poor." Yeats was certainly not the lonely aimless figure of this characterisation by the time of Freud's arrival in the postwar city. He is correct in noting the importance of Victor Waddington's South Anne Street gallery for Yeats's late career, but the promotional relationship between dealer and painter had in fact achieved its major success by 1945. The Yeats National Loan Exhibition of 1945 was a national cultural event, showcasing 180 pictures by the artist and attracting over twenty thousand people to the Dublin Metropolitan School of Art. Opened by Taoiseach Éamon de Valera, the exhibition consolidated Yeats as Ireland's national painter.
If Freud's voice occasionally sees Youth stray from fact into fiction, it also contributes to a broader issue regarding the reading experience of the biography. The volubility that is at first dazzling and which leads you compulsively from page to page can become by the book's middle section strangely fatiguing, as you struggle to keep up with an ever-growing cast of casually referenced characters and incidents. Feaver's own tendency to write in a knowing shorthand of reference and association hardly helps matters, propelling the narrative at an often frantic and breathless pace. In such moments, Youth veers closer to the informality and spontaneity of a memoir than an official biography, leaving the reader pining for greater authorial structure and control.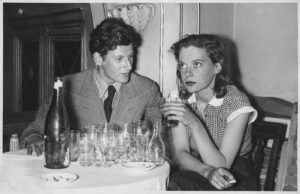 The early 1950s marked the climax of the first act of Freud's career. High-profile solo exhibitions at London's Hanover Gallery and group shows in the Festival of Britain and the Venice Biennale were critically praised, encouraging a string of acquisitions of his work by the Arts Council, the Tate, and MOMA. Now in his thirties, Freud was the acclaimed painter of precision, layering his immaculate surfaces with innumerable thinly applied strokes of the sable brush, his line a scalpel point defining the figure with the accuracy and dispassion of a surgeon. The surreal strangeness and distortions of his early subjects and scenes were gradually replaced by a more overtly naturalistic realisation of figure and form. A series of close-up portraits created during this time looked to reveal character and vitality through the intensely observed detail. His two-page manifesto "Some Thoughts on Painting" in Encounter clarified the aims and application of his aesthetic. "My object in painting pictures," he began, "is to try and move the senses by giving an intensification of reality."
Yet even as he reached this first peak of achievement, Freud was becoming aware of the limitations of a perfected style. "I got very impatient with the way I was working," he recalls in Youth. "It was limiting and a limited vehicle for me and I also felt that my drawing and my making artefacts ‑ graphic artefacts ‑ stopped me from freeing myself." The break-up of his second marriage to the glamorous Lady Caroline Blackwood, writer and daughter of brewery heiress Maureen Guinness, exacerbated this period of personal and artistic dissolution that would see Freud failing to present a solo show of new material again until 1958. Feaver describes the late '50s as "a period of floundering and scrabbling for bearings" and he expertly navigates Youth through the artist's stumbling course in these years, characterised by a series of "sudden starts and elaborate lunges from painting to painting as he tried for intensifying liveliness in the paint".
The vital break that would rejuvenate Freud's career began to definitively emerge in the 1960s. Emboldened by the example of his great artist friends Francis Bacon and Frank Auerbach, he gradually loosened his style from the meticulous linearity and fine finish of his early years. The thin sable brushes by which he made his name were exchanged for large coarse hogshair that set the paint down thick and wet on the canvass. Youth consequently concludes with a resurgent Lucian Freud now in his forties and "on the verge of full maturity". Feaver closes this first volume with the anticipation of the artist's renewed sense of direction and purpose, leaving us with a view of "the protagonist emerged from the second round, his former accomplishments sloughed off, the odds increased, the strain showing". The evocativeness of the characterisation is typical of a biography that dazzles with anecdote and image, revealing the remarkable life of this once most elusive of artists.
1/11/2019
Conor Linnie is an Irish Research Council Government of Ireland postdoctoral fellow in the School of English, Drama, and Film, University College Dublin. Images: Lucian Freud, c 1929 (Private Collection); Dead Monkey, 1944. © Lucian Freud Estate; Lucian Freud and Brendan Behan in Dublin, 1953. © Getty; Lucian Freud with his second wife, Caroline Blackwood. Madrid, 1953.